Services
A relaxing, customized facial to help you achieve and maintain healthy skin.
Andrea's relaxing, customized facials will help address specific skin conditions and areas of concern, leaving your skin refreshed and revitalized. You will literally be ready to put your best face forward.
Andrea specializes in acne and hyperpigmentation, and brow shaping.
FACIALS
All facials include skin analysis, steaming, exfoliation, extractions, and mask, and shoulder, neck, head, and face massage.
SKIN NOUVEAU CLASSIC FACIAL
Focusing on skin health and appearance, this treatment is customized at every step and is unique to each client. Includes shoulder, neck, face, and scalp massage.
ANTI-AGING POWER REGENERATION FACIAL
Combined vitamin and hydroxl exfoliation and a specialized contour masque make this the ultimate in skin therapy for aging, prematurely aging, or dry, devitalized skin. Your skin will be noticeably smoother, firmer, and revived.
BRIGHTENING FACIAL
This treatment will stimulate and increase blood flow, reduce hyperpigmentation, detoxify, and brighten skin tone to reveal a youthful glow.
HYDRATING MILK BATH FACIAL
Utilizing the youth-replenishing benefits of milk, this treatment immerses skin in the soothing essence of milk to hydrate, plump, and nourish dry, depleted skin. Includes décolleté, neck, face, and scalp massage.
MEDICATED CLEARING FACIAL
This medicated clearing treatment will focus on purifying your skin with deep cleansing followed by extractions, while helping to prevent future breakouts.
EXPRESS FACIAL
Pressed for time? This mini treatment is designed to address your immediate skin care needs.
THE ULTIMATE FACIAL
The ultimate in skin health and relaxation! Tailored to each client's skin care needs, this facial provides double exfoliation and triple masks, an exfoliating lip treatment, firming and brightening eye treatment, and, includes a luxuriously extended massage of the feet, calves, hands, arms, décolleté, shoulders, neck, face, and head. You will float home revived and refreshed from head to toe!
NATURALLY SOOTHING FACIAL
Great for sensitive skin and most rosacea skin types, this facial will reduce inflammation, redness, and strengthen capillaries. Includes décolleté, neck, face, and scalp massage.
DERMAPLANING
A gentle and effective treatment to remove the outermost layer of dead skin, dermaplaning utilizes a cellular abrasion blade to remove unwanted facial hair, stimulate collagen production, promote cell turnover, and resurface tone and texture, with little to no downtime.
MICRODERMABRASION
A suctioning wand with crushed diamonds on the tip is used to gently remove the outermost layer of dead skin to reveal the fresh, youthful cells underneath while also stimulating collagen production and improving tone and texture.
ACID PEELS
Peels gently rejuvenate the skin by penetrating deeper into the layers of the epidermis to remove the damaged outer layers of skin. Peels range from mild "lunch time" peels to deep peels in which large segments of skin are shed. Peels are one of the least invasive but most effective ways to resurface skin to help improve sun damage, acne and acne scarring, discoloration, fine lines and wrinkles, and rough or uneven tone and texture. Your esthetician will help you determine which peel is right for you.
ADD-ONS
Massage Treatments
EASY HAND TREATMENT
This treatment will lighten and brighten skin tone and reduce age spots for a more youthful appearance while infusing skin with vital antioxidants, leaving hands soft and nurtured for a glowing radiance.
FACIAL SERIES
Treatments include facials, peels, microderm, and dermaplaning. One treatment per session (additional treatments may be added for an add-on fee). Each session is 75 mins. One treatment per month with required monthly auto-debit.
BODY TREATMENTS
Take a load off with super-smoothing back treatment designed to rid your muscles of stress and your skin of impurities.
PURIFYING BACK TREATMENT
A deep cleansing scrub is followed by extractions and then an aromatherapy massage for your back's most stressed out parts.
UPPER BODY POLISH
Results-oriented skin care for arms, hands, and décolleét, this treatment will smooth coarse texture and fine lines and diminish age spots for healthier, refreshed, younger looking skin.
BODY SCULPTING
This cellulite intervention treatment targets the tummy, back of thighs, and/or glutes to resurface, tone, tighten, and firm, those pesky areas prone to cellulite and uneven tone and texture. A brisk dry brush is followed by microdermabrasion exfoliation, and then a rolling massage that breaks up tissue, release toxins, and increases circulation. Then a purifying and firming mask is applied to further smooth the appearance of cellulite. Your skin will positively glow!
TINTING
Tinting for Brows and Lashes
WAXING
Waxing from eyebrows to full body.
---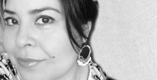 A highly skilled esthetician with a keen attention to detail and total professionalism, Andrea Hernandez is adored by her faithful clients and healthy and beauty media coverage alike. She offers precision, friendliness and a wealth of experience.